Offender ReEntry and Transition Services
Persons about to be released from incarceration or those who have been recently released to the Northern Neck are eligible for Offender Re-Entry and Transition Services (ORTS). ORTS provides the following services based on the availability of funds:
Pre Release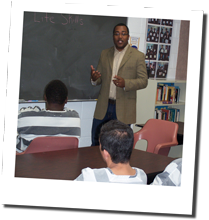 Faith and Non Faith based Parenting Classes
Thinking for a Change
Employment Skills Development
Life Skills Development
Obtain Identification Documents
Release Planning
Educational Classes
Anger Management
Post Release
Transportation assistance to employment interviews or employment sites
Housing assistance which includes shelter referrals
Job search assistance
Assistance in obtaining identification documentation
Vocational or educational training referrals
Referrals to other agencies that provide services that ORTS does not offer
To receive services, you must meet with the Case Manager for an intake interview. This interview will involve providing information about yourself such as; your criminal history, alcohol or drug use, and employment history. You must further authorize ORTS by written release to provide services or make outside referrals for services you may need.
The ORTS office is located at the Northern Neck Regional Jail and is open Monday through Thursday 8:00 a.m. to 5:30 p.m. You may contact the case manager for further information or comments by:
Mail
OTR Case Manager
Po. Box 1090
Warsaw Va. 22572
Telephone
804-333-6006
You may also click on the contact Form below and select Offender Re-entry as Recipient
It is recommended that an inmate contact the case manager approximately 90 days before release from an institution. The offender must be willing to help him or herself because their long term success depends on them, not ORTS.