Welcome to Community Corrections
The Community Corrections staff provide the local Courts with alternatives to adult incarceration when an individual meets the requirements for the program. Services include Pre-Trial, and Community Based Probation supervision.
PreTrial Officers monitor and enforce a person's compliance with the conditions of release that may be imposed by a court prior to an individual's trial.
Under certain circumstances after an individual's conviction, a court may place an indiviual on Community Based Probation with conditions in leiu of, or in addition to incarcerating that person. Community Based Probation Officers monitor and enforce compliance with conditions for the duration of the probation period.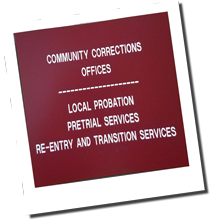 Community Corrections also provides Re-Entry and Transitional Services to current inmates about to finish their incarceration period. These services are designed to aid the offender with his or her re-entry into the community.
Please use the links at left to navigate to the individual pages within this section. You may return to the Home Page by clicking on the Jail Logo Above.
Thank you for visiting!
-The NNRJ Web Team-