Criminal Justice Links
Virginia Courts Information system
Search for Virginia court cases by county.
A Website with many correctional links.
American Correctional Association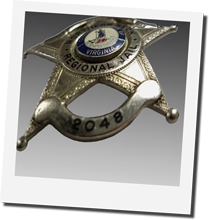 A professional organization for corrections.
Virginia Department of Criminal Justice services
The Department of Criminal Justice Services provides comprehensive planning and state-of-the-art technical and support services for the criminal justice system to improve and promote public safety in the Commonwealth.
National Institute of Corrections
NIC provides training, technical assistance, information services, and policy/program development assistance to federal, state, and local corrections agencies.
The American Jail Association (AJA) is a national, nonprofit organization dedicated to supporting those who work in and operate our nation's jails.
Virginia Association of Regional Jails
Information and links to other Virginia Regional Jails.
Rappahannock Regional Criminal Justice Academy
Regional Training academy for the jail and over 60 other criminal justice agencies.
Virginia Department of Corrections
Official Virginia DOC Website.
Victim Information and Notification (VINE)
An on-line resource for crime victims that allows for the search of information regarding current custody status of inmates serving sentences in Virginia local and regional jails and the Virginia Department of Corrections.